Post by nic on May 22, 2019 6:39:38 GMT
Nimble is a compact but compelling MIDI note looper written in StreamByter code and is shipped as a Factory Preset in StreamByterAU version 1.5 and up: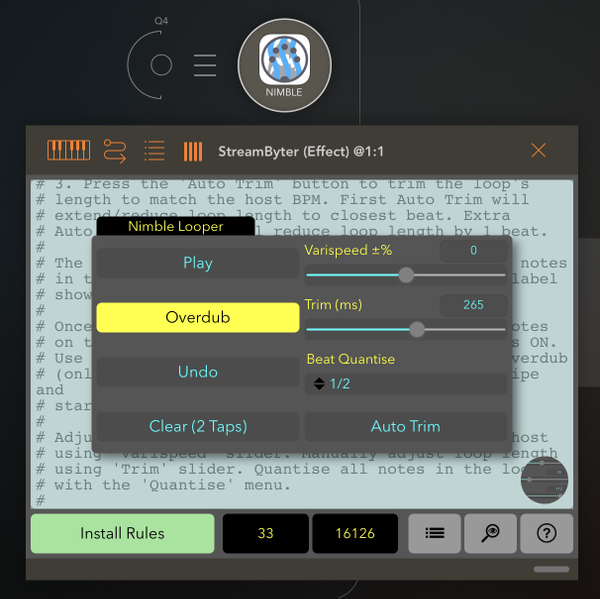 It is host aware in that the host transport can be used to start/stop the looper and the host's BPM can be used to trim the loop length to match the current BPM.
Here is how you use it:
1. You start by recording the first set of notes in the loop. You use the top left button (New Loop) or the host's transport to start a new loop. Once started, this button goes yellow and is labelled as 'Mark End'.
2. Play the notes of the base layer and press 'Mark End' when done. The loop will start playback and the top left button becomes a Play/Stop control.
3. Use the 'Auto Trim' button to trim/extend the loop length to the nearest beat according to the host BPM to get perfect sync. Pressing Auto Trim a second or more times will reduce the loop length by one beat. The right label indicates the current length of the loop in milliseconds. Maximum loop length is 65535 milliseconds.
4. The 'Overdub' toggle (goes yellow when armed) is used to add more notes to the loop. Whenever the loop is playing and the Overdub button is lit, received notes are added to the loop. You can overdub as many times as you like. The current number of notes in the loop is shown in the left label.The maximum number of notes permitted in a loop is 256. If you exceed this maximum, the note count will show as 'Full'.
5. The 'Undo' button removes the most recent overdub (but you can only undo that overdub)
To clear a loop and start again, double-tap the 'Clear' button.
You can adjust the speed of the loop (independent of the host) by moving the Varispeed slider.
The length of the loop can also be adjusted manually (trim/extend) using the Trim control.
The notes in a loop can be quantised using the Quantise dropdown menu.
Your loop events are saved with any preset save, either via StreamByter's own preset facility or the hosts's preset/session saves. When a preset is loaded your notes will be restored as well as all the other parameters that were set.
You can run multiple loopers simultaneously and they will all sync together if started from the host's transport.
Finally, you can remote control the buttons and controls from a host since each control is exposed as an AU parameter.
Enjoy!